Do you often find it hard to get comfy? Air Quality Heating & Air Conditioning has been a trusted San Jose HVAC provider since 1999, so we know what it takes to keep your bay area home comfortable. We've put together some of our most popular articles on home comfort so that you benefit from what we've learned by helping families and individuals stay comfortable over the years.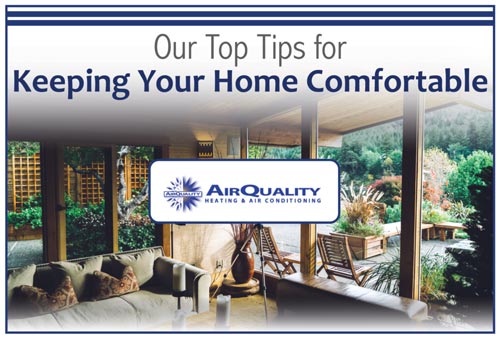 San Jose Home Comfort Resources
Your home should be an oasis for comfort and safety. Use the resources below to help make your own home safer, healthier and comfier in no time:
Introduction to Carrier: 5 Home Comfort Products from the Experts
Carrier is a leader in heating and cooling systems and products, providing a variety of innovative home comfort solutions to meet every comfort need. This post covers some of the best home comfort products available and how they can help keep your home more comfortable throughout the year. This is a great article for anyone who is contemplating buying a new HVAC system.
Why is Changing My HVAC Air Filter So Important?
Most homeowners know that they should change their air filter when it gets dirty or clogged. However, many still don't make an effort to keep up with regular HVAC air filter changes. This post goes into a bit more detail about why changing your HVAC filter is an important part of providing a healthy, safe, and comfortable home environment for you and your family.
Smart thermostats have revolutionized the way that we think about home comfort. These devices learn your habits and comfort needs and respond by adjusting the temperature and other air quality factors to keep you comfortable. Not to mention, smart thermostats can also help you save more money on energy costs by running your HVAC system more efficiently. This post introduces you to the Cor thermostat from Carrier, an innovative device that will change the way you keep your home comfortable.
Home Humidifiers for Allergy Relief
Now that it's winter time, you may notice more dry air than usual. Dry air not only affects your skin, but it can also cause breathing problems for those who have asthma or allergies. This post explains how home humidifiers can help those who suffer from allergies find relief. Not sure if this IAQ product is right for you? Read this post, and if you still have questions, give us a call: (408) 293-7138.
What Do UV Lights Really Do for Your Indoor Air Quality?
Did you know that UV lights can help improve your indoor air quality? This is just another air quality product that can help you provide a safer and healthier environment for your family. This post goes into more detail about how UV lights work and the indoor air quality benefits they provide. Read this post to find out if UV lights might be the right IAQ solution for you.
Breathe Easy: 4 DIY Tips to Improve Indoor Air Quality
Humidifiers and UV lights are not the only way to improve your indoor air quality for better home comfort. This post offers 4 simple, do-it-yourself solutions for improving your IAQ and helping you and your family breathe a little easier year-round. This is a must-read for anyone who suffers from allergies, asthma, or other respiratory issues.
Want more tips for maintaining home comfort? We update our blog on a monthly basis with all kinds of informative content on HVAC, home improvement, comfort tips, indoor air quality, and home maintenance. Be sure to check back here regularly so that you don't miss the chance to learn more about how to keep your home safe, healthy, and comfortable.