Whether you're dream is to have your own show on HGTV or you've never touched a hammer, home improvement blogs are perfect for everything from detailed run throughs of complex projects, to inspiration for what to contract out to drive your home's value. There are also many different categories of home improvements including: Crafts, DIY, Remodel, Flip, Design, Projects, Maintenance, Family, Cooking, Finance & budgeting and much more. This means that finding the right blog for your needs can be challenging. That's why we've put together some of our favorite home improvement blogs that help homeowners customize their dream homes, drive up their equity and tackle any challenge that life throws their way.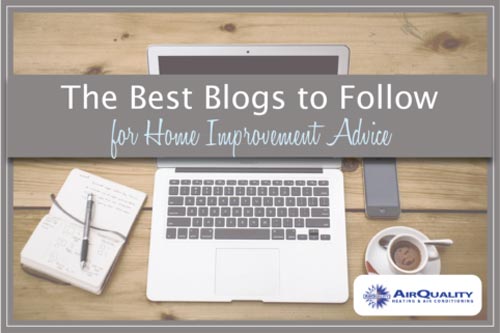 Top Home Improvement Blogs to Follow
Get four experts in one blog with One Project Closer. 4 minds are better than…well many things… and that's what makes One Project Closer so special. You have the men, Ethan and Fred who cover the project outlines and tool reviews and "the better half", Kim and Jocie, who provide excellent craft, trend, design and DIY advice as well as coupons to keep your project on budget!
Don't be fooled by categories like cooking & baking, fashion and shopping. One look into the before & after section will let you know that this momtrepreneur means business when it comes to construction and large remodels. You may come for the sewing advice or interior design inspiration, but you'll likely leave with the intent to tackle more than you ever thought you could.
There is a such a diverse wealth of information for homeowners in this blog that it can be difficult to pick just one project from this blog at a time. Think of Pretty Handy Girl as your swiss army knife of home improvement blogs with topics ranging from electrical and plumbing to gift ideas and photography. This isn't a surprise given the blog's creator, Brittany, is not only a licensed general contractor, but also a professional photographer, artist, graphic designer and web designer.
MerryPad follows the DIY journey of Emily Fazio, who is married to Pete Fazio of Dadand.com. Aside from the impressive projects that these two DIY pros put out, perhaps the most inspiring part of MerryPad is its simple and unassuming upbringing. Emily embarked on simple home improvement projects that she documented just to show family. When she realized how far her DIY mindset could get her, she launched MerryPad to help inspire other homeowners to make their "pads" just as merry, special and unique as she and Pete have made their two homes.
For a more personal approach to home improvement, feel free to reach out to our San Jose HVAC office at the number above. Regardless of how your house looks, it won't be your home unless it feels right. Get your home feeling comfortable and clean this summer with air quality and air conditioning services from the HVAC company San Jose locals have trusted for years – Air Quality Heating & Air Conditioning.