It's hard to imagine living without proper home cooling in our part of the state. Most homes keep cool by way of a central air conditioning system, and many homeowners feel like they don't have a lot of options for cooling if a traditional central air system won't work well for their home. They may assume that their only option is to add a noisy and less efficient window unit. This is where a ductless system can be a lifesaver.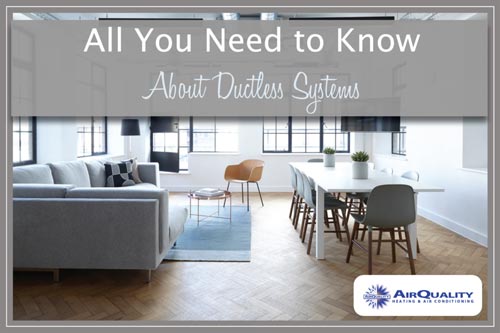 If you haven't considered how a ductless system can benefit your home, then you'll want to read on.
How Ductless Systems Work
Unlike central air systems, which require adding a good deal of ductwork throughout your home, a ductless system only requires feeding a small tube (containing refrigerant) from an outdoor unit to an indoor unit. This is far less invasive than a traditional central air system and requires less time to install. Instead of utilizing ducts to circulate air, there is a system of blowers that are installed in each room to cool that area directly. Since these blowers are installed high up on the wall, homeowners will notice very little interference from a ductless system.
Energy Efficiency
Ductless systems are considered more efficient than central air conditioning units mainly because of their lack of ductwork. A large reason that central air cooling systems become inefficient is due to holes and leaks in the ductwork, which can result in a 25 to 30% loss of efficiency. With a ductless system, you can still get a high efficiency unit with an excellent SEER rating, and you won't have to worry about losing efficiency over time as you would with a central A/C.
Range of Features
In contrast to typical central air conditioning systems, ductless systems offer a variety of handy features which heightens convenience for the homeowner. These features may include options such as remote operation, programmable settings (so that you can easily control the temperature indoors during certain times of day), easily washable filters, and adjustable air flow.
It's Not Just for Cooling
Ductless systems aren't just great for keeping your home cool, they can also heat it as well. Many ductless systems utilize heat pump technology, which means that in addition to cooling your home, they can be used to heat it during the cooler months by reversing the direction that the refrigerant flows so that it transfers the heat into your home instead. These types of two-for-one systems work perfectly in home's located in and around San Jose, where the weather is mostly warm.
It's Worth the Investment
Even though there is an initial investment involved with ductless systems, just like there is with central air systems, the benefits of a ductless system are well worth it. Ductless systems last longer and are far more efficient than a window unit. And, compared to a central A/C, ductless systems use less energy overall during operation. You also get more control over your indoor temperature, which results in much greater energy savings over time.
If you're in the market for an energy efficient solution to cooling your home, consider a ductless system. Benefits like increased energy-efficiency and improved air quality and handy additional features, make it a great option for many homes all year long. Give us a call to learn more about whether a ductless system is right for you: (408) 293-7138. Or visit our products page to browse the variety of ductless options we have available.