Every ENERGY STAR®-certified air conditioner features an EER or SEER rating, displaying its energy efficiency. However, even the best product can experience mishaps in performance over time. Without proper maintenance and sound decision-making, an energy-efficient AC can eventually become an energy drain.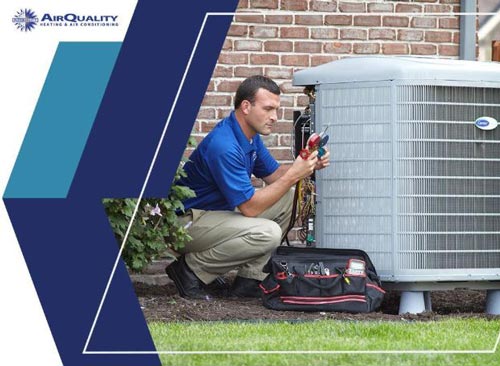 If you ask the experts at Air Quality Heating & Air Conditioning, these are the best ways to improve your cooling equipment's performance and economize energy:
Prevent Dirt Buildup
Dirt is the number one enemy of ACs. When soiled, your unit's ability to convert warm air into cool becomes compromised. A filthy filter can block airflow and a clogged condensate drain can cause the system to operate poorly. Changing the filter routinely and keeping the outdoor unit dust- and debris-free go a long way.
Set Thermostat Several Degrees Higher or Lower
The role of your thermostat is to monitor the air so that your air conditioner is cooling a room based on your desired temperature. Sharp rises or drops in temperature forces the unit to exert more effort to neutralize the fluctuation. The harder your unit has to work, the less efficient it becomes. An elegant solution to this problem is to increase or decrease your thermostat by up to eight degrees.
Keep Heat Sources Away from Thermostat
Remove items that give off heat away from your thermostat. It can trick your air conditioner control into believing that the indoor air is hotter than it really is. In turn, your air conditioner will run needlessly.
Don't Use the Windows During Hottest Hours
Close your windows during the hottest and muggiest parts of the day to keep the sunlight out. Your home still absorbs solar heat, but your units would react less intensely. As a result, your AC could accomplish its job more easily.
Schedule Routine Inspections with Air Quality Heating & Air Conditioning
At Air Quality Heating & Air Conditioning, we offer HVAC maintenance agreements to help keep your cooling unit's health in check. This way, we can reduce the chances of equipment breaking down dramatically, and keep its warranty valid. Plus, you'd get to enjoy priority service scheduling with repair discounts. Call us at (408) 899-8878 now to learn more about our AC maintenance agreements, and tell us about your HVAC needs.